ABOUT PAX VAPORIZERS
THE 2 NEWEST PAX PRODUCTS ARE THE PAX MINI AND PAX PLUS
PAX vaporizers are the brainchildren of PAX Labs, formerly known as Ploom, a San Francisco based manufacturer whose core focus is reimagining the vaporizer. Beautifully crafted with advanced technology beneath their elegant surfaces, PAX vaporizers deliver simple, enjoyable vaping sessions. Truly innovative controls, a futuristic design, and easter egg features make vaping with a Pax vaporizer an engrossing experience. PAX spared no expense on high-quality materials, building vaporizers for portability, durability, and discretion. Often referred to in the media as the iPhone of vaporizers, the Pax vape combines simple yet innovative controls, sleek design, and clean, palatable vapor production to deliver the ultimate dry herb vaping experience. To date, PAX Labs' line of portable vaporizers is comprised of the original PAX vape, PAX 2, Pax 3, and most recently, the PAX Plus and Pax Mini.
The release of the PAX vaporizer was met with a wave of innovation in the vape industry as manufacturers realized what was possible. If you're a dry herb or concentrate enthusiast who vapes on their feet, consider choosing a PAX portable vaporizer as your new best friend.
Pax Plus Vaporizer Overview
The PAX Plus Vaporizer, succeeding the popular PAX 3, is a compact and powerful device from PAX Labs. With a fast heat-up time and up to 2 hours of battery life, it guarantees easy and efficient vaping sessions. The device comes with a magnetic oven lid for secure storage and a 10-year limited warranty, testifying to its durability. It features four preset temperature settings - Stealth, Efficiency, Flavor, and Boost, offering a personalized vaping experience. Standing at 3.85 in / 9.8 cm and with a depth of .86 in / 2.2 cm, this vaporizer fits perfectly in your pocket, making it an ideal choice for on-the-go vaping. The PAX Plus is easy to operate with a single button control, no need for a smartphone app. It delivers dense, smooth, and flavorful vapor, making each session a delightful experience.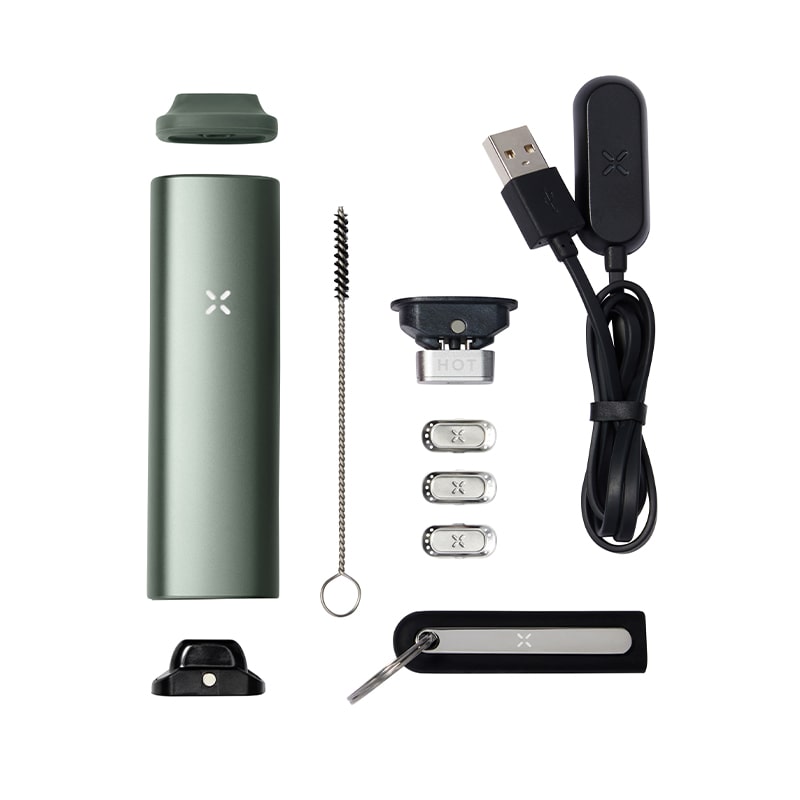 Pax Mini Vaporizer Overview
The PAX Mini vaporizer is an innovative device that's perfect for those leading an active lifestyle and seeking a discreet, minimalist vaping experience. With a single-button operation and one preset temperature setting, it's designed for optimal performance and rich flavor. The vaporizer features a 3D oven screen, allowing for easy cleaning and even heating - ensuring your dry herb is never burnt. The device is small enough for pocket-size convenience yet robust, with a 2+ hour battery life and a 3000mAh battery. The PAX Mini package comes complete with a flat/raised mouthpiece, oven lid, 3D oven screens, wire brush, and a USB charger. However, please note that it's not compatible with solid concentrates. The device measures 3.66 inches in height, 1.22 inches in width, and .86 inches in depth. With a two-year warranty, the PAX Mini delivers simplicity, performance, and convenience in one compact package.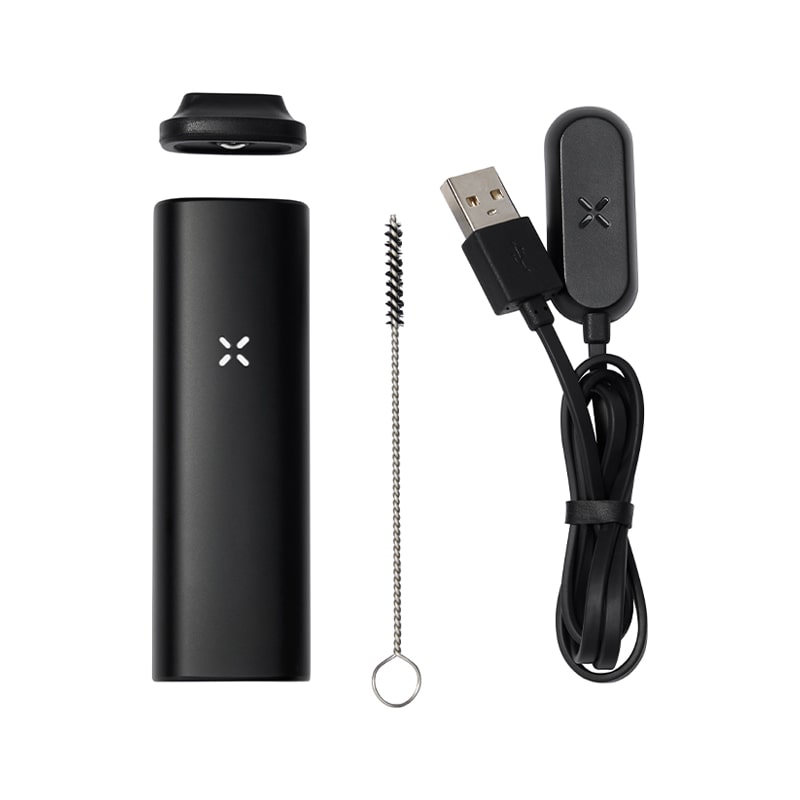 HOW EFFICIENT ARE PAX VAPES?
PAX vaporizers feature powerful conduction heating systems that deliver smooth, flavor-rich vapor on-the-go. The stainless steel heating chamber vapes dry herb efficiently by heating material on a wider surface area. Expect around 20 draws from a fully packed chamber. Each iteration of the PAX vape boasts a large, advanced herb chamber made of stainless steel.
For the best vapor quality, a fully packed herb chamber is recommended. We also suggest that you finely grind your dry herb for the maximum efficiency when vaping. Those who prefer smaller vape sessions or want an option for vaping a small amount of dry herb can opt for the third PAX vape, which comes with a half pack oven lid. When bought separately, the half pack lid can be used with the second PAX vaporizer as well. Toggling the PAX vaporizer to its higher temperature settings produce impressively large, dense vapor clouds. Likewise, keeping the PAX vape on lower temperatures creates smaller, flavor-rich hits.


HOW DOES THE PAX WORK?
The PAX vaporizer is controlled via a single button on the mouthpiece. Holding the PAX vape button down will light up the dry herb pedal icon (the PAX vaporizer logo), at which time you can toggle through the temperature settings by pushing the button.
The third iteration of the PAX vaporizer features mobile app compatibility, enabling you to control temperature via 4 innovative heat settings:
Features of PAX vaporizer

Stealth Mode keeps PAX vape temperature lower to produce less vapor and odor for a more discreet vaping experience. This mode features faster cooling, dimmed LED lights, and a cooler standby temperature. Ideal for vaping without drawing attention to your session.

Boost Mode increases PAX 3 heat-up time and intensity for big bountiful vapor clouds fast. This mode provides bigger hits at your preferred temp.

Flavor Mode p

inpoints the best temperature for flavor extraction. This mode cools faster and adds a boost. Flavor mode is optimized for flavor extraction rather than vapor production.

Efficiency mode o

ptimizes temperature for thorough vaporization. Temperature ramps up as the session progresses, extracting the most from each bowl.
The PAX 3 mobile app experience enables you to jump straight to the ideal temperature for your vaping needs. You can choose a custom or preset vaping style from your mobile device while the PAX hides in your pocket, making for a more discreet vaping experience. Regular firmware updates bring additional capabilities and a seamless vaping experience with the third PAX vape.


PAX 2 VS PAX 3: WHAT'S THE DIFFERENCE?
The two most popular PAX portable vaporizers are the PAX 2 portable vape and next, PAX 3.. Both vapes boast sleek designs, compact sizes, lip sensing technology, and an ample sized herb chamber. The PAX 3 is smarter, faster, more dynamic, and features mobile app compatibility. If you're not sure which PAX vape is the best vaporizer for you, here's an in-depth breakdown of PAX 2 vs. PAX 3.
Both the second and third PAX vaporizers have been praised for their build quality, advanced technology, and efficient vaporization, with many reviewers referring to them as the iPhone of vaporizers. Sure enough, you'll find that these simple yet sophisticated vapes dwell in the realm of insanely great products, elevating vaping to a state of perfection.
If you'd like to browse more options, we stock a variety of the
best portable vaporizers for dry herb
.
PAX Concentrate Vaporizers: Era and Era Pro
PAX took their flagship PAX vaporizer and went back to the drawing board to design a concentrated vaporizer and created the PAX Era. This vaporizer delivers flavorful concentrate vapor in a portable, compact pod-system. The device has no buttons or heat-up times so you can just grab your Era and inhale. It charges in 45 minutes and you get 180 puffs per charge. The Era also has four temperature settings (520ºF to 790ºF) for a more customized experience.

To take things up a notch, the
Era Pro
remembers your favorite vaping temperature, proving a unique experience. The PodID of the Era Pro also recognizes your PAXSmart pod so you can see detailed info about your concentrate from the PAX smartphone app. You'll see details like the content of your material, preferred temperature, and state regulated test results.
Portable Dry Herb Vaporizers: PAX 2 and PAX 3
If you enjoy vaping dry herbs while on the go, then the PAX 2 and PAX 3 are for you. They're both PAX's flagship vaporizers. The PAX 2 comes in a sleek, smart design that features an innovative heating system that self-adjusts based on the pressure of your inhale. It has four temperature settings that are optimized for dry herb and concentrate, so it will zero-in on the best temperature for your favorite strains. The PAX 2 is also affordable and has an amazing battery life.
The PAX 3 takes things to another level. It offers an even smarter, faster, and stronger vaping experience than the PAX 2. From high-speed heat up times and longer battery life to the app-controlled heating modes and iPhone-like haptic feedback, the PAX 3 is truly a cutting edge vaporizer. As a testament to PAX's commitment to quality, their PAX 3 Basic Kit is protected by a 10 year warranty.