The best rolling paper can make your dry herb session all that much more enjoyable, but how do you find out which paper is right for you? Although they might seem simple, there is a ton of nuance when it comes to rolling papers. Want a totally natural rolling paper? Done. Something to catch the eye of everyone at the party? Sure, why not. From slim to wide, rolling papers have a ton of variations that can affect your session.
The Best Rolling Papers
We're going to spotlight a few of what we think the best rolling papers are and what separates them from one another, keep an eye on this list because we have a few more brands to stock that just might become your go-to rolling paper and be sure to check out our full selection of rolling papers before your next session. 
The newest addition to the best rolling papers realm is VIBES Rolling Papers. Bay Area rap mogul Berner has brought elite rolling papers and cones to the masses. Developed by consumers for consumers VIBES Rolling Papers come in a variety of paper types: Hemp, Rice, and Ultra-Thin. 
Vibes Cones feature uber-thin paper for a smooth, even burn every session. A thinner paper means your dry herb's natural flavor can shine, as it won't be affected by too much "paper smoke". Available in either standard or King Sized, VIBES cones are a super convenient way to enjoy your dry herb.  
The VIBES King Size Slim Rolling Papers feature a natural paper with a proprietary airflow to ensure consistent draws and ample airflow. Cultivated in France, VIBES Rolling Papers are ultra-thin letting your dry herb's flavor flourish each session. 
Single Packs of Rolling Papers
Bulk Boxes of Rolling Papers
If you're looking for something to roll on, check out the Vibes Papers Rolling Tray. 
 A Closer Look at the list of Rolling Papers Above
Introducing the Cali by VIBES™, the latest creation from renowned Bay Area rapper and entrepreneur, Berner. These pre-rolls are designed with the utmost attention to detail, mirroring Berner's signature rolling style. With a wide circumference, the Cali offers optimal airflow, comfortable pulls, and an immersive smoking experience.
The tips of these pre-rolls are specially crafted to provide stability while ensuring that no unwanted particles make their way into your smoke. Each Cali pre-roll boasts a generous 1 gram capacity, giving you plenty to enjoy.
The Cali's distinct structure also provides a grandiose smoking experience, setting it apart from conventional pre-rolls. The tips are innovatively designed for stability, making the pre-roll easy to fill while simultaneously filtering out any undesirable particles. With a generous 2G capacity, each Cali pre-roll delivers a smoking experience that is both extensive and immersive. Please note, a minimum order quantity of 3 is required.
Product Highlights
Capacious 2G size

Unique wide and cylindrical form for ideal airflow

Delivers an impressive smoking experience

Designed for easy packing

Available in four distinct blends

Responsibly grown in France

Expertly hand-rolled in the Dominican Republic

Bound together with natural acacia gum
The Cali's design replicates Berner's own signature rolling style, featuring a cylindrical shape with a wide girth that ensures the perfect balance of airflow and strong, satisfying pulls. Each draw immerses you in a big-smoke experience that is second to none.
The Cali's intelligently designed tips are robust enough to facilitate easy packing, while simultaneously filtering out undesirable particles. With an impressive capacity of 3 Grams, the Cali is designed to elevate your smoking experience.
Please note, a minimum order quantity of three items applies.
Highlights
Generous 3 Gram capacity

Cylindrical design and wide girth for optimal airflow

Big-smoke experience with each pull

Effortless to pack thanks to the sturdy design

Variety of four blends available to suit every preference

Lovingly cultivated in the lush fields of France

Rolled by hand in the Dominican Republic for that personalized touch

Sealed with natural Acacia Gum for an authentic experience.
Vibes King Size Slim Rolling Papers are your go-to solution for a longer, more flavorful dry herb session. These premium rolling papers are available in either rice or hemp variations, catering to your personal preference. The King Size Slim design allows for approximately 1 gram of dry herb, offering more volume than standard sizes. Thanks to the thin nature of the rice or hemp paper, you'll experience less interference from "paper smoke", ensuring the purest possible flavor. For those seeking a slower burn, our rice papers provide a leisurely pace, while the hemp papers propose a slightly quicker burn without compromising on the elite flavor experience. Delight in a smoother, richer smoke session with Vibes King Size Slim Rolling Papers. Rolling these papers is a breeze, even for beginners, making them a fantastic choice for anyone aiming to elevate their smoking experience.

Introducing our handcrafted Vibes Cones range, designed for a superior smoking experience. With three unique variations – Ultra Thin, Rice, and Hemp – we cater to a variety of preferences. Our 1.25" Ultra Thin Cones, made with premium hemp paper, allow your chosen herb's natural flavor to be at the forefront – an ideal choice for the purists. The Vibes Rice Cones, constructed from thin rice paper, offer a slower burn and a purer draw, enhancing the longevity of your sessions. Lastly, our Vibes Hemp Cones promise a smooth, slow-burning session with consistent, easy draws, thanks to our proprietary airflow design. Less paper and more flavor is the motto for our Vibes Hemp Rolling Papers. Regardless of your preference, each variant ensures an enjoyable, robust session, solo or shared. Discover the Vibes difference today!

Our Vibes Rolling Papers - 1.25" offers a superior smoking experience for those seeking longer sessions. Crafted from rice, these papers are designed to burn at a slower pace compared to our hemp-based products, thereby extending your enjoyment. However, if you prefer a quicker session, we recommend our Hemp Vibes Rolling Papers - 1.25". Despite the faster burn rate, our hemp papers deliver an unrivaled flavor experience, ensuring each session is a delightfully enjoyable encounter. Choose the Vibes Rolling Papers - 1.25" that best suits your pace and savor the quality we provide.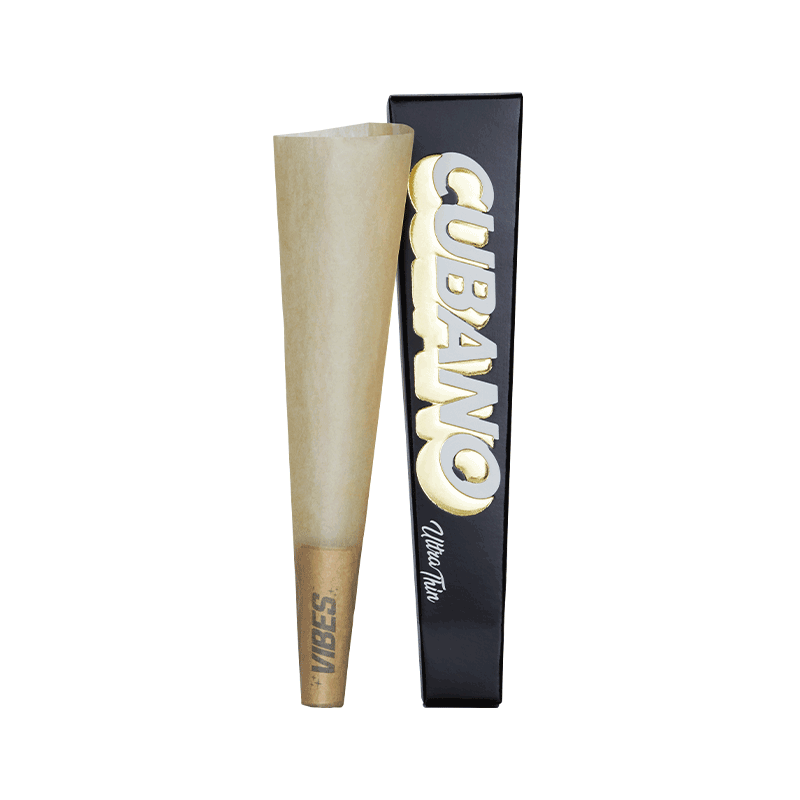 Introducing the Vibes Rolling Papers Cubano Cones Single - King Size, the perfect partner for your extended sessions or large gatherings. With the capacity to hold over 8 grams of dry herb, the Cubano offers an unparalleled smoking experience. Whether you are a heavy smoker or hosting a significant event, this cone is designed to maintain its structural integrity throughout usage. Available in either Hemp or Rice Paper variants, the Cubano takes pride in its purity. It is free of calcium carbonate and bleached without chlorine, ensuring there are no harmful by-products or unpleasant tastes. Experience the taste of your dried herbs as they should be, uninterrupted and pure.
Experience the revolution in dry herb enjoyment with our King Size Vibes Cones. Available in Rice, Hemp, or Ultra-Thin varieties, these cones are engineered to deliver an even, clean burn during your dry herb sessions. Aptly sized to hold around 1 gram of dry herb, they are perfect for group sessions of 3-5 people. Our Vibes Ultra Thin King Size Cones, crafted from ultra-thin hemp paper, ensure a consistently smooth burn. The thin hemp paper allows natural flavors to shine through, unencumbered by excessive "paper smoke", making these cones ideal for finely ground dry herb.
Presenting a more robust alternative, our Vibes Hemp King Size Cones provide added structural support for denser dry herbs or sessions involving added concentrates. The natural hemp paper facilitates a slow burn of your dry herb, while our unique airflow design ensures even and consistent draws. The Vibes Rice King Size Cones, made from rice rolling papers, burn slower than the hemp variants, thus extending your sessions. These cones let the authentic flavor of your dry herb take center stage. Moreover, our proprietary airflow design prevents runs and remains open throughout your session, enhancing your experience.
Experience the Cali by VIBES™ and elevate your smoking ritual to new heights.
The History of Rolling Papers 
When it comes to smoking accessories, rolling papers have one of the longest and most interesting lineages. The history of rolling papers is thought to be traced back to begin with Alexandro Rizlette de Camptone Lacroix (wow, that is a mouthful), the head of the Lacroix family that would eventually start what is now known as the RizLa+ rolling papers company. Apparently in 1532 Lacroix traded a bottle of champagne for the rolling papers that French soldiers had brought back from Spain. After trading for the papers he copied the paper, cementing the fact that, to our knowledge, rolling papers were invented in Spain and proliferated by France. 

The Lacroix family started mass producing the papers in 1736 under the name The Lacroix Rolling Paper Company, with their first contract being with the one and only Napoleon. In 1865 the company changed the formula for the papers to include rice paper, and they changed their name to the current RizLa+ moniker: "rix" is the French word for rice, and "La+" can be expanded to mean "Lacroix" as "croix" is French for "cross".


Things went smoothly for the Lacroix family for, well, centuries. Their product was widely sold throughout Europe and the US by 1900, and in 1942 they patented their method of applying gum to the edge of the papers, making sealing cones infinitely easier than before and cementing them as leaders of the rolling papers market. 

Since then, the composition of rolling papers has remained unchanged. Companies use different combinations of pulp, hemp, rice, and flax to create what they think is the perfect rolling paper. In recent years there has been a big push for non-GMO and organic papers to ensure the purest dry herb experience possible. 
So we've listed a few of our favorites, let us know in the comments what brand of rolling papers you think is the best! Make sure to look at our full collection of rolling papers, and check back because we have a couple more brands to stock so get ready for more rolling paper breakdowns, until then, roll easy friends.