The Dr. Dabber SWITCH represents a brand new type of desktop vaporizer to hit the vapescape today. It's the first induction style desktop vaporizer, and has one of the trippier light setups of any vaporizer out there. The induction heating system means that the SWITCH heats up incredibly fast. Dr. Dabber made the SWITCH equally capable for both dry herb and wax concentrates so not only is it nice to look at, it's versatile too.
This vape comes with a ton of goodies included, one of which is a stylish and effective glass percolator that cools and smooths your vapor thanks to its "tree" style perc. With an eye-catching look, insanely long battery life, and puff and pass capabilities the Dr. Dabber SWITCH works equally well in large group settings or for users that tend to just vape solo or with a small group of friends. The Dr. Dabber SWITCH could very well be the last vape you'd ever have to buy.
INDUCTION HEATING

The most impressive thing about the Dr. Dabber SWITCH is how they've managed to utilize induction heating into this vaporizer. Dr. Dabber put an induction coil at the top of the unit (housed in some beautiful frosted glass) that works in conjunction with the included induction cups. In technical terms, the Dr. Dabber SWITCH is a "precision directed energy delivery device using electromagnetic coupling to transmit energy in the form of an oscillating magnetic field into the induction cups." Now, if you're like me after you read that you thought "man, I should really go back to college because that means nothing to me." Don't worry, all this means is that the induction heating coil makes a magnetic field, that is absorbed by the cups, and then heat is created. This method is a great cost saving feature since the induction heating coil works with the cups, there are no atomizers that will ever need to be replaced.
This heating system lets the user choose from 25 different temps for both wax extracts and dry herbs, and the SWITCH can control power to an accuracy of 1% so you'll never have to guess if your set temp is the actual temp you're enjoying. Each heating cycle is optimized to produce great vapor for either concentrate or dry herb. During the pre-heating phase, the SWITCH induces power into the induction cups and gets them up to temperature insanely fast, with most temp settings only taking 5 seconds to heat up. The longest heat up time was just 12 seconds, so even at high temps the SWITCH is ready to go very quickly. 
By using induction heating, paired with the induction cups, the SWITCH heats up significantly faster than any other heating method currently out. These cups are engineered to create an even heating surface temperature with no "hot spots", so you get consistent flavor during your vape sessions. The electronics on the SWITCH are totally shielded from the vaporization environment, which means the unit is totally leak-proof. Dr. Dabber even went as far as to engineer the SWITCH so that there are no electrical connections to the heating element that can wear down or break over time.
Other than the breakneck heat up speed the biggest advantage of the Dr. Dabber SWITCH using their specific induction design is the fact that there is little to no oxygen within the vaporization environment. This means at higher temps your dry herb can actually be heated past the point of combustion without actually combusting, so 100% of your terpenes get to you while discarding all of the harmful parts of the material. The induction cups nestle down inside of the coil, and once covered with the cap the environment is airtight. This lack of oxygen prevents combustion and oxidation of your vapor compounds giving you a smoother vapor with less waste.
OIL AND LEAF MODE
With a flick of a switch (I'm so sorry, please forgive me) users can go between enjoying dabs or herbs. Dr. Dabber knows that no two strains or extracts are alike, so they've given you 25 temperature options for each kind of vaporized material. Want to taste each and every flavor of your dry herb? Set the SWITCH to its lowest temp and enjoy the terpenes. Looking to fill your living room with clouds? You can boost the SWITCH to its highest setting to feel your extract in your lungs and then see the fruits of your labor in the form of dense vapor clouds. It might seem intimidating to see that there are 25 temperature choices, which is understandable, if these temp settings were a person they would be able to rent a car. But don't fret, Dr. Dabber has a "Standard Mode" that gives you just 5 temps to choose from, all calibrated for flavor on the lowest setting, and dense vapor at the top.

USING THE DR. DABBER SWITCH IN STANDARD MODE
So above I kind of just lightly touched on the temp settings, I found the quick settings to work great, but I myself am not a frequent desktop vape user (shoutout to all my vape pen people). Leaf and Oil mode, within "Standard Mode", operate the same way: you'll fill the glass percolator with water and secure it to the top of the SWITCH. It is important to have your SWITCH in the correct material mode, personally, I thought the icons looked a little too similar but that's just me. You'll set your temp using the "+" and "-" buttons, 1 LED is calibrated for optimum flavor quality, and 5 LEDs will set your SWITCH to give you optimum vapor density.
After your temp is picked, load your induction cup (white for wax, black for dry herb). You'll use the provided tweezers to place the cup into the glass top, and cover it with the ceramic filter. Next press the "Go" button and place the carb cap on top of the glass perc attachment. The Dr. Dabber SWITCH LEDs will escalate red when heating, then flash green when the SWITCH has reached temperature. In standard mode, the SWITCH will hold the heat profile for 15 seconds, then go into a "cool down" mode represented by cascading blue LEDs.
Using concentrates in Standard Mode on the SWITCH is more of a "flavor" game, even at the highest setting the clouds weren't necessarily "billowing", but they were substantial while still giving a lot of flavor to the user. Dry herb materials are a little more susceptible to the heat settings, a lower setting lets you taste each flavor very well, while the highest heat setting goes straight to your lungs.
So, fairly simple to use in the "Standard Mode". The LEDs do a good job of letting you know everything that is happening. The top of the SWITCH can be customized with 25 different LED settings to give you a light show during your pulls, which doesn't necessarily make the performance any better, but it does add to your dry herb or concentrates affects.
USING THE DR. DABBER SWITCH IN ADVANCED MODE
Now, the "Advanced Modes" of the Dr. Dabber SWITCH are where hardcore vape users can really get down and dirty with their temperature settings. Both the dry herb and extract settings have 25 heat settings each to choose from.
DISCLAIMER: with all of the temperature options, having the Dr. Dabber SWITCH manual on hand is kind of a must your first few uses.
To get to Advanced Mode, you'll start with the power switch in the OFF position. Hold down the "Go" button, and then flick the switch to either Flower or Extract, and release the "Go" button. The front 5 LEDs will illuminate in a rainbow, letting you know you're officially in advanced mode. From here it's simple "+" and "-" control, with kind of a twist. There are five colors in this setting: Purple (the lowest), Blue, Cyan, Green, and Yellow (the highest).
Each of these settings has 5 settings within the color it is assigned to. So, 5 Purples, 5 Blues, etc. This is where you get the 25 heat settings from, ranging from 300°F to 800°F.  After the temp is set, it is the same loading process as Standard Mode. In Advanced Mode, you can train your Switch to remember your "hold time" (the amount of time the SWITCH will keep the temperature held). To do this press and hold down the "Go" button, the red LEDs will then indicate the SWITCH is heating up when the LEDs switch to yellow it means the device is recording the new hold time. You'll keep holding down the "Go" button until you're satisfied with the new hold time, and it will be saved. The minimum hold time is 5 seconds, and the max is 30.
The Advanced Modes on the Dr. Dabber SWITCH are 100% for advanced vapers. This reviewer enjoyed the standard modes perfectly fine, but my terpene palate is probably not as refined as those who see 25 temps featured and say "FINALLY!". The amount of customization that is capable with the Dr. Dabber SWITCH is unprecedented in the desktop vaporizer world. The button control for this mode is simple in theory, and after a few instruction booklet consultations sticks in your brain, but a small digital screen would make it a little easier to see exactly what temperature you're on.
INCREDIBLE BATTERY LIFE
Based on its size you can safely assume that the Dr. Dabber SWITCH has astounding battery capabilities. The SWITCH will tell you the remaining battery life by displaying 5 purple LED lights, each representing 20% of the battery's remaining charge. Dr. Dabber says the SWITCH is capable of up to 150 uses on a single charge, I didn't use it that much, but I did use it for around a three hour period on various heat levels and still had all 5 purple LEDs light up. Short heat up times, large size, and a range of up to 800°F should mean the user has to carry an extra battery in a backpack, but not so with the SWITCH, this simply might be the best battery performance on a desktop vaporizer that we've ever seen. And not only does the battery last an eternity, the Dr. Dabber SWITCH only takes 60 minutes to be fully charged from a completely dead vaporizer. The SWITCH also has "pass-through" technology, so you can use it while charging if your party is in full vape-mode.
SWITCH SAFETY AND CLEANING
With such a powerful heating element and battery, Dr. Dabber put a lot of safety precautions into the SWITCH. After every heating cycle, the SWITCH automatically cools down, indicated by a blue light that cascades down the 5 LEDs on the front. The SWITCH will also not even begin a heating cycle without an induction cup in place inside of the heating unit, preventing any dry firing mishaps that may happen. The auto cool down and "smart induction" only help to add to the SWITCH's mind-blowing battery life.
Cleaning the Dr. Dabber SWITCH is a pretty painless process. For the ceramic induction cups, you can use the "Self Cleaning Cycle". This mode heats the SWITCH to around 800°F (in 12 seconds no less) and burns off any excess residue that might be on your cups. If you'd like to give your SWITCH a little more TLC, the induction cups, ceramic filter, glass top, and glass percolator attachment can all be cleaned with cleaning supplies such as +90% isopropyl alcohol and a few cotton swabs. With so few pieces and no electrical connections to ever be broken, maintaining the SWITCH is very easy.
FINAL THOUGHTS
Overall, the Dr. Dabber SWITCH is one of the most consistent desktop vaporizers we've come across. From battery power, to heating levels, to vapor quality this thing gives you exactly what you want it to, every time. The induction heating is ahead of anything else on the market, and it doesn't seem long before there is a flood of induction-style vaporizers coming out. Dr. Dabber gave the SWITCH a battery that is unrivaled by any desktop vape out today, making it perfect for parties or marathon vape sessions. The LED lights give the SWITCH a "fun" feel, with 25 options for what you'd like to see during your session.
Honestly the only real downsides I can come up with is that the provided dab nail is not as sharp as I'd like (it's great for large amounts of extract, smaller ones not so much), the glass percolator might seem like a "handle" to some people, and the fact that the advanced settings are a little too in-depth for not having a screen to display the temperatures. Basically, I'm saying the advanced settings are too smart for me, which isn't the worst problem to have if you're a desktop vape.
Fans of Dr. Dabber SWITCH are Now Obsessed with: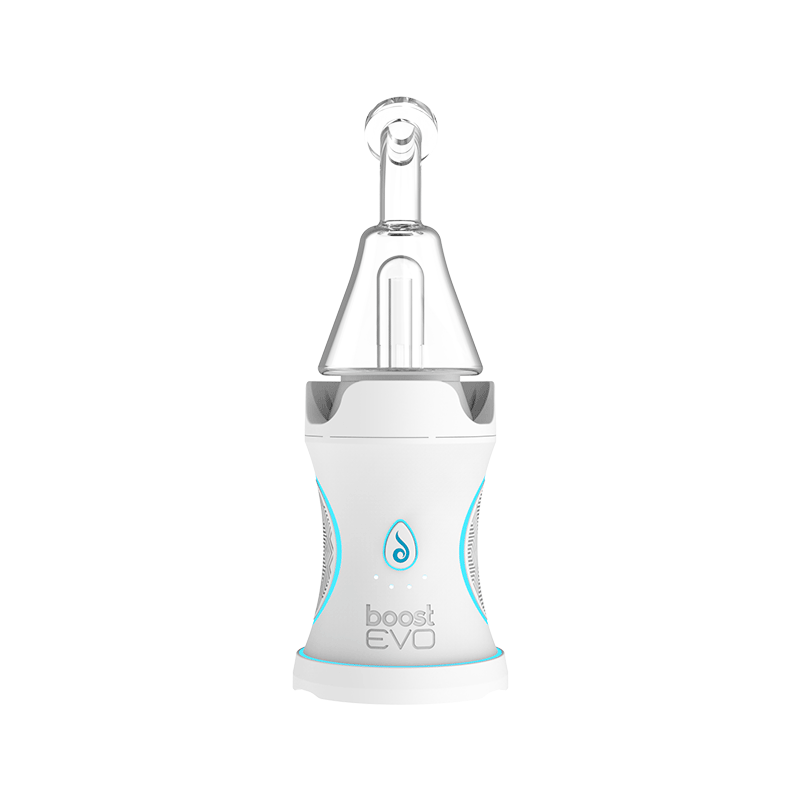 Introducing the revolutionary Dr. Dabber Boost EVO e-rig - a game-changer in achieving the perfect draw! Meticulously crafted with cutting-edge proprietary technology, this e-rig is designed to elevate your concentrate experience.
Featuring a patent-pending temperature control sensor, the Boost EVO ensures even heating of your precious concentrates throughout your sessions. We listened to our valued customers and fine-tuned 6 perfectly calibrated heat settings within the 500-750 degree range, allowing for unparalleled concentrate exploration.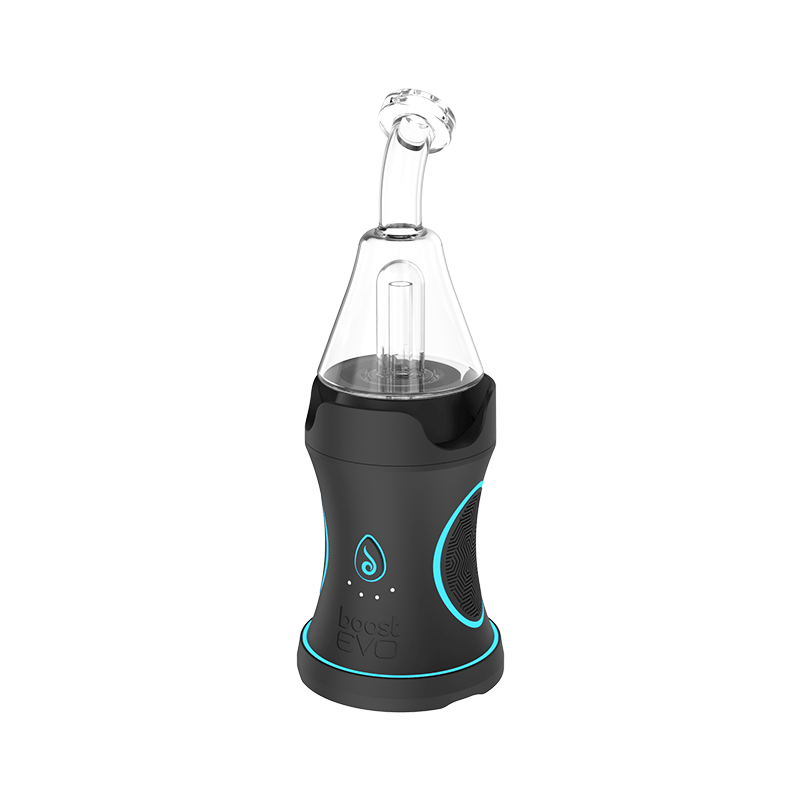 With a custom quartz dish, interchangeable glass options, and ambient lighting, the Dr. Dabber Boost EVO is not just an e-rig - it's the life of the party! And with its powerful 3400mAh battery, rest assured that you can enjoy this remarkable device for as long as you need.