PAX Labs
---
---
Regular price
Sale price
$150.00
Unit price
per
Sale
Sold Out
---
---
---
---
Learn More

The PAX Mini Portable Vaporizer
One of the most discreet, reliable, and portable dry herb vaporizers on the market 


The PAX Mini vaporizer is the easiest dry herb vaporizer to use. It has a single heat mode setting. All you have to worry about is packing the chamber, and turning it on. It heats up quickly, has a great battery life, and is extremely small and discreet. The PAX Mini adapts to your sessions, and will adjust temperature to match your style. It results in a very easy to use discreet dry herb vaporizer.

The PAX Mini vaporizer is the perfect device for those that love a hassle-free and quick vaping session. This easy-to-use vaporizer has been designed to be used with dry herbs and offers superior flavor and aroma.
It heats up quickly and produces maximum clouds in only 22 seconds. The battery life of this device is great - offering up to 2+ hours of continuous use on a single charge. And it's also built to last, giving you peace of mind with its two-year limited warranty.
The PAX Mini features a one button operation that makes it easier than ever to get your vaping session started. All you have to do is power it on and puff away; no settings are required!
What's more, the innovative 3D oven screen allows for ultimate convenience as it can be easily popped out for a deeper clean without any fuss. And there's also an oven lid that comes with the package which ensures your stash stays secure at all times. You won't worry about burning your dry herb either, since this device never does that! Instead, it heats your flower evenly for consistent flavor and superior performance every time you use it.
Plus, its pocket size means you can take your PAX Mini anywhere without worrying about anyone noticing what you're doing - making this vaporizer super discreet as well as practical.
The PAX Mini package includes lots of great accessories too: a flat/raised mouthpiece, oven lid, 3D oven screens, wire brush, USB charger and 3000mAh battery are all included in the box - so you'll have everything you need right away!
Who is the PAX Mini for?
The PAX Mini is for an active lifestyle user that wants to skip fancy settings and features. PAX Mini is a minimalist discreet vaporizer that delivers optimal performance based on usage. Focused on rich, flavorful vapor without the complex controls. For thicker clouds, take longer and slower draws. For more flavorful clouds, take shorter and faster puffs.
Vapor Quality
Focused on flavor, the PAX Mini vaporizer has a single setting. The single setting is optimized for flavorful clouds. This results in less complicated, more enjoyable sessions.
Pax Mini Package
The PAX Mini box includes the PAX Mini vaporizer, a flat & raised mouthpiece, the oven lid, a wire brush, and USB charger. The concentrate oven is not compatible with the Mini, if you'd like to vape solid concentrates too check out the PAX Plus.
Battery Life
The Mini PAX delivers up to 2 hours of session time. Charging has never been easier with the included magnetic USB charging dock. Battery level is shown with the four LED petals on the front of the device.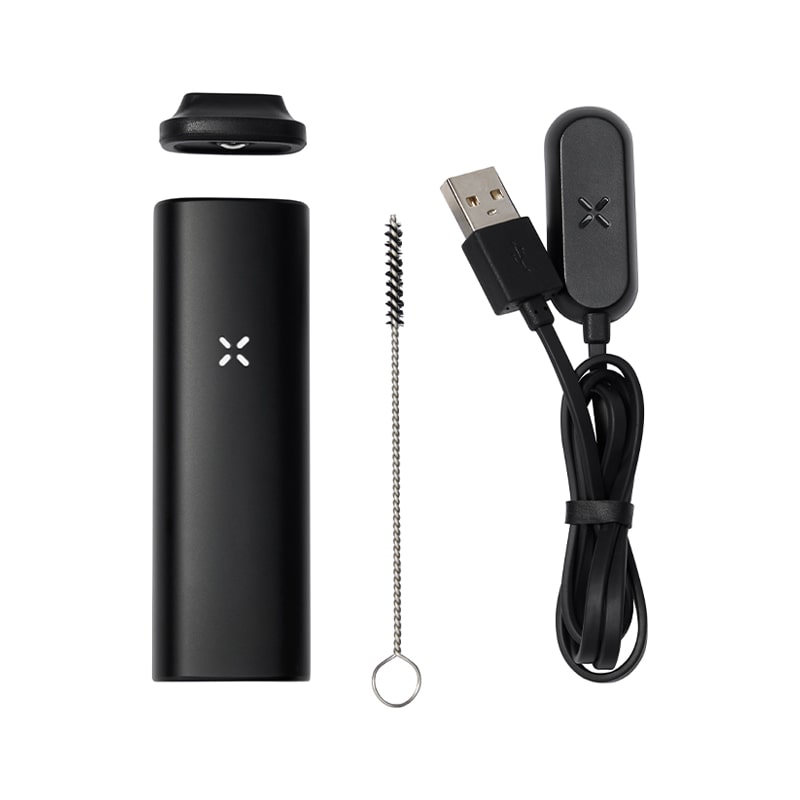 Pax Mini Vaporizer Features:
Battery: 3000mAh
Height: 3.66 in / 9.3 cm
Width: 1.22 in / 3.2cm
Depth: .86 in / 2.2 cm
1 Preset Temperature Setting
USB Charging Dock
2 Year Warranty
With its minimalistic design and one preset temperature setting (ideal for those who don't want to fiddle around with complex controls), this vape guarantees rich flavorful clouds without any extra effort from your end! Whether using solo or sharing with friends, this lightweight yet durable vaporizer offers an easy way to enjoy your herbs - plus cleaning is super simple so maintenance will be a breeze even after long periods of usage.

So if you're looking for an uncomplicated yet powerful vaporizer that fits conveniently into your lifestyle, then look no further than the PAX Mini! This incredible device packs all of the features mentioned above in one sleek package - delivering great high-quality sessions every time!