Need a new...anything this holiday season? vapor.com has your clouds covered with all the devices and accessories you could think of to help elevate your sessions or confections.
If you like something, just click the button and make your purchase. 
Don't want to scroll? Click these to get transported right to their section of the gift guide:

Sometimes a category has so many good devices, we gotta add one to profile. Portable dry herb vaporizers offer more power than vape pens and allow for more complex heating systems to deliver smoother, denser, and more flavorful vapor. We've got more dry herb vape to check out on our Best Portable Dry Herb Vapes blog if these don't catch your eye!
The Firefly 2+ comes with an enhanced airflow system and an improved battery, making it the most advanced Firefly Vaporizer to date. It stands out as one of the few handheld vaporizers that offer genuine convection heating in under five seconds. It allows users to choose a temperature anywhere from 200°F to 500°F, allowing for a customizable vapor experience. The heater can be easily activated by touching sensors located on both sides of the Firefly 2+.
Introducing the newest color range for the PAX 3! The comprehensive PAX 3 Kit includes everything necessary for a superior vaping experience with one of history's most emblematic vaporizers. Featuring a new mobile app, a half-pack oven lid, and four unique vapor modes, the PAX 3 stands out as one of the most advanced and effective portable vaporizers on the market. Alongside, the included concentrate insert transforms the PAX 3 into a versatile vaping powerhouse. The PAX 3 Complete kit is packaged with extra screens, a concentrate insert, a half pack oven lid, two mouthpieces, and a handy carrying pouch. For those who prefer less, a Basic Kit option is also available.
Just like the DaVinci IQ 2, the DaVinci IQC Precision Vaporizer delivers clean, flavorful, and dense vapor that's incredibly potent. This vaporizer uses clean first technology, so the mouthpiece is made with Sharesafe™: an FDA- approved, antimicrobial polymer mouthpiece that delivers purity of flavor. The IQC vaporizer's oven is funnel-shaped to make it easier to load your materials and even has a built-in herb spoon to improve the loading experience. This vape also features removable 18650 batteries that can be charged via USB-C and has reverse charging capability so you can power your phone on the go. The DaVinci IQC has a built-in mobile app that lets you pinpoint your preferred temperature.
The G Pen Dash is an ideal vape for the dry herb user who enjoys the outdoors. Able to fit in any pocket or bag the Dash Vaporizer is equipped with a 950mAh battery that offers 3 temperature settings ( 375 °F, 401 °F, and 428 °F) to allow you to fully explore your material's flavor profile. A glass-glazed stainless steel heating path keeps draws cool during sessions and a "Session Mode" is available to allow for longer draws. The G Pen Dash also happens to be one of the cheaper options in this category, a nice bonus if you're a vape user on a budget.

Kicking off our 2021 Buying Guide is the powerhouse of the vapor-world, desktop vaporizers. If you're in the market for an at-home device we've got our top 3 listed right here, but for more options check out all of our Desktop Vaporizers for sale!
The Volcano Hybrid arrived in 2019 and in 2021 Storz & Bickel gave it a facelift! The Volcano Hybrid Onyx edition brings style to your next session and provides whip-style vapor delivery to the famous Volcano Vaporizer line. An updated digital-touch display makes pinpointing and monitoring your temperature easier than ever. Storz & Bickel engineered the Hybrid to heat up 10x faster than its predecessors while providing vapor by way of whip or classic Volcano bag delivery. Convection heating has never been this fast!
The Extreme Q is a mainstay on vaporizer gift guides because of it's elite performance at a reasonable price. Arizer developed the Extreme Q to be the first-ever remote-controlled desktop vape, so you can choose temperatures and start the heating process before you even sit down. Precision temperature control and multiple fan speeds make for in-depth sessions and full exploration of your dry herb. For under $170 you won't find a better desktop vape.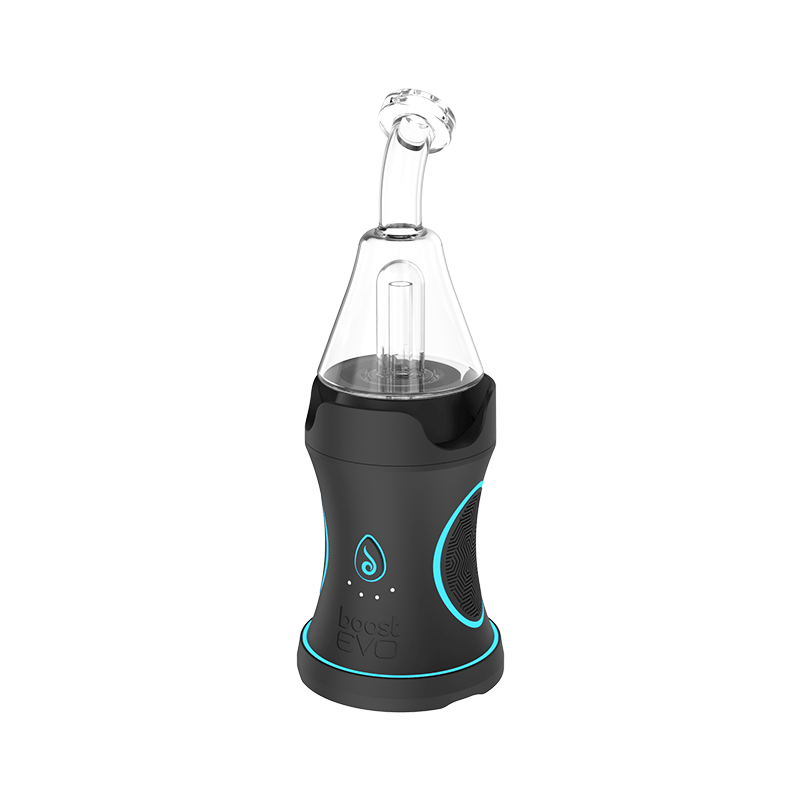 The Dr. Dabber Boost EVO e-rig was developed with proprietary technology from the ground up to help you achieve the perfect draw. The Boost EVO e-rig utilizes a patent-pending temperature control sensor that keeps your concentrate heated evenly during sessions. To develop the perfect heat settings Dr. Dabber took customer feedback and created 6 perfectly calibrated options within the 500-750 degree range for full concentrate exploration.

It was a banner year for electric concentrate rigs! The desktop-looking-but-still-portable trend is in full effect for these devices and the result is crazy thick vapor from some of the most stylish and technologically advanced devices in the vape world. If you're new to ENails check out our comprehensive guide on them here.
Designed for any glass-to-glass water pipe connection the G Pen Connect uses a ceramic heating element to bring out the true taste of your material, while an 850mAh offers voltage options of 3.1, 3.6, and 4.1. For such a compact device the G Pen Connect might be leading the pack in the 'size to cloud production' race.
The Dr. Dabber Boost EVO is the latest in e-rig innovation. Dr. Dabber took customer feedback and created 6 perfectly calibrated options within the 500-750 degree range for full concentrate exploration while also utilizing a patent-pending temperature control sensor that keeps your concentrate heated evenly during sessions. If you want the latest in e-rig technology, the Boost EVO should be your go-to.

Sometimes during the holidays you just want to pack a bowl and chill. For those dry herb users who enjoy the simpler things in life here are our top picks for dry herbs and pipes, we've got a slew of pipes to choose from here if these don't psych you up.
The latest innovation from Eyce is ORAFLEX, and it brings a whole new look to your sessions. ORAFLEX (Overmolded Rubber Art) spoon pipes feature 2 layers of platinum-cured silicone, with the outer layer being clear to offer more depth and a glossy look that mirrors that of an artisanal glass spoon pipe. The ORAFLEX Spoon Pipe features an ergonomic grip and removable borosilicate glass bowl for no-fuss maintenance.
From the first family of herb comes the Marley Natural Glass & Walnut Glass Spoon Pipe. The classic glass spoon pipe design is mixed with black Walnut to give a subtle and refined vibe during sessions. An enlarged bowl makes it possible to pack enough for any session, and each piece is removable for easy cleaning. 
The Stündenglass Kompact Gravity Infuser is a smaller version of the iconic Stündenglass Gravity Hookah V2, but don't let the updated size fool you: this thing delivers dense-yet-smooth vapor draws. This 360° rotating glass hookah utilizes kinetic energy and the natural force of gravity to deliver draws, and features a 45° adjustable mouthpiece that offers contactless consumption, as well as a 3-foot silicone hose that an be connected for direct draws. The Stündenglass Kompact can also connect to any vaporizer that has a 14mm male joint. 

This section is for the old-school concentrate users. Sit down with your torch and enjoy thorough vaporization from the OG concentrate consumption equipment. We have a large supply of rigs to choose from here so if these don't get you psyched check out what else we have to offer!
The Higher Standards Heavy Duty Rig is engineered specifically for the water filtration of concentrates. This durable, medical-grade borosilicate glass concentrate rig has been handcrafted for powerful, reliable performance, and features a quartz banger for optimal flavor transfer.
Eyce Spark ProTeck Rig 
The Eyce Spark ProTeck Rig features Eyce's stylish silicone colorways and trademark reliability. An included quartz bucket does a great job of balancing a fast heat up time with flavor retention, and the Spark can be used to enjoy dry herb with the included borosilicate glass slide. An LED glow ring provides fun lighting effects during sessions for an added "spark" of fun.

Hopefully you've moved on from splitting up your dry herb with your hands or scissors, but if you haven't (or just need a new grinder) check out our top 3 favorite herb grinders below or in peruse our extensive selection here.
Available in multiple colors the Santa Cruz Shredder 3-Piece is a great grinder for on-the-go prep. It doesn't take up as much space as a 4-piece, but still has a compartment to make grabbing and loading your material easy. Santa Cruz uses its unique tooth design to make your dry herb perfect for a vape, pipe, or paper. The rounded walls of the inner compartment ensure no dry herb gets left behind.
The Cloudious9 Tectonic9 Auto Dispensing Grinder blends the reliability and durability of a traditional grinder with technology. This grinder's spout makes it easy to load the right amount of dry herbs, so you don't waste any flowers while transporting from grinder to bowl or paper. It also helps distribute your flower evenly to avoid clogs or jams.
The OTTO is the first automatic herb grinder that preps and dispenses your dry herb into a cone. The SMART Grinding Technology can sense the material getting dense, and switch directions to avoid a jam. All you have to do is load your dry herb, close the OTTO, press a button, and within seconds you'll be twisting your perfectly proportioned cone.

For those looking to roll or pack their dry herb we've got the top rolling paper brands represented on our Gift Guide, as well as a blog breaking down what makes a rolling paper special here.
From Bay Area rapper Berner comes Vibes Cones. Choose from Rice, Hemp, or Ultra Thin Cones to enjoy slow-burning and flavorful sessions. Each cone has a proprietary airflow design that makes for full draws no matter how packed you have your paper. Check out the other Vibes Rolling Papers here.

For the edibly-inclined consumers, we've got the best infusion machines available to elevate your holiday get together. These machines can turn any dish into an extra special delight, or help you prep infused oils, butters, etc. for later on.
The LEVO II not only can create infused oils it also activates your dry herb through decarboxylation, the process of getting your dry herb's compounds "ready" for consumption. A removable reservoir makes for easy cleaning, and a modern design fits in any kitchen.
A pillar of the infusion world, the MagicalButter uses an immersion blender and digital thermostat to bring evenly-dosed infusions to your edibles. The one-button-operation allows anyone to infuse, while the multitude of accessories available make the process streamlined.